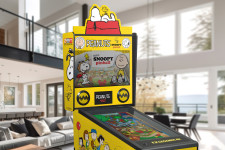 Step into the enchanting world of Snoopy and Friends with the FX Legends 4K Pinball - a Limited Edition by AtGames
Los Angeles, Calif. – AtGames, a leader in interactive entertainment products, is thrilled to announce its FX Legends 4K Collector's Edition Pinball featuring the Peanuts Snoopy Pinball. AtGames and Zen Studios plan to release a total of 15 exclusive FX Legends 4K Collector's Edition Pinball (CEP) SKUs from 2023 to 2025.
The Peanuts® CEP will be limited to just 5,000 units and will come equipped with custom side panel artwork and pre-loaded with 15 tables including the Peanuts Snoopy Pinball table.
Moreover, each machine will also be individually numbered on a unique Builder's Plate to commemorate its unit number (e.g.: No. 1/5000) and manufacture date. Furthermore, a Peanuts® themed Topper will be included in the packaging to make this collection truly unique.
CEP preorder customers will receive a prepaid two (2) months Legends 4K PinballNet™ Subscription. AtGames' Legends 4K PinballNet™ lets you play over 140 Legends 4K tables from AtGames' repertoire. A one (1) year LegendsCare™ Standard warranty will cover your CEP machine.
The Peanuts® CEP list price is $1,499.99. It will be available for a special introductory preorder price of $1,199.99 on November 16-23, 2023, with the first round of shipments scheduled to reach Owners by March 31, 2024.
The Peanuts® CEP comes equipped with a 32" 4K resolution playfield display with premium processing power with the Legends CE-4K software platform, onboard storage with Rockchip 3588 CPU and 64GB of internal storage. It also features a 24" HD resolution backglass display and an 8" HD resolution DMD display, accelerometer for nudge and tilt, large 3.5" audio speakers and support for Surround Sound Feedback via the optional Legends 4K Pinball SSF Kit.
The new Peanuts ® CEP complements the AtGames Legends 4K Pinball (ALP 4KP) Standard Edition, which features The Addams Family™ theme and table along with 14 additional built-in tables. The Addams Family™ Standard Edition product is now available for a special preorder price (preorder here). For full Peanuts® CEP product and preorder information please visit here.
"AtGames is thrilled to continue working with Zen Studios to bring these new Legends 4K Pinball machines and virtual pinball tables to life, featuring some of the most beloved characters and themes in entertainment history, such as Peanuts Snoopy Pinball," said Dr. Ping-Kang Hsiung, CEO of AtGames. "This strategic collaboration with Zen Studios allows us to offer more diverse and engaging content to families of all generations in fun and innovative ways."
"We look forward to continuing the partnership with AtGames to bring fresh, family friendly content to the AtGames hardware and digital domains," said Mel Kirk, Zen Studios Chief Operating Officer.
"Snoopy and the gang have been loved by both adults and children alike since Peanuts was first introduced to the world in 1950" says Scott Shillet, VP, Global Hardlines & Promotions for Peanuts Worldwide. "A key part of our brand strategy is working with leading companies like Zen Studios and AtGames that can reach Peanuts fans of all ages while also creating new fans by expanding our brand's presence in the gaming space."
For more information on the AtGames Legends 4K Arcade Family of products, please visit: atgames.us
About AtGames:
AtGames (http://www.atgames.net) is a leader in innovative consumer-oriented interactive entertainment products. The company leverages the latest technology to develop and publish its best-selling classic video game products for worldwide distribution. AtGames is based in Los Angeles, with international offices in Taipei and Shenzhen.
AtGames Contact: pr@atgames.net.
About Zen Studios:
Zen Studios is a leading global producer and publisher of interactive entertainment software for all major digital game platforms. Recognized as one of the premier gaming studios in entertainment studios, including Lucasfilm, Marvel Entertainment, NBC Universal, Funko and FOX Digital Entertainment.
Zen's Pinball FX franchise has defined video game pinball excellence since 2007, and critically acclaimed titles like Circus Electrique and Operencia: The Stolen Sun have proven its devotion to creating captivating RPGs. Zen Studios joined Saber Interactive in November 2020. For more information on Zen's library of titles, visit zenstudios.com.
Zen Studios Contact: press@zenstudios.com
About Peanuts:
The characters of Peanuts and related intellectual property are owned by Peanuts Worldwide, which is 41% owned by WildBrain Ltd., 39% owned by Sony Music Entertainment (Japan) Inc., and 20% owned by the family of Charles M. Schulz, who first introduced the world to Peanuts in 1950, when the comic strip debuted in seven newspapers. Since then, Charlie Brown, Snoopy and the rest of the Peanuts gang have made an indelible mark on popular culture. In addition to enjoying beloved Peanuts shows and specials on Apple TV+, fans of all ages celebrate the Peanuts brand worldwide through thousands of consumer products, as well as amusement park attractions, cultural events, social media, and comic strips available in all formats, from traditional to digital. In 2018, Peanuts partnered with NASA on a multi-year Space Act Agreement designed to inspire a passion for space exploration and STEM among the next generation of students.
Share: